Acknowledgments
Border Flows evolved from concept to volume because of the intellectual and financial support of NiCHE, the Network in Canadian History & Environment/Nouvelle initiative canadienne en histoire de l'environnement. NiCHE underwrote the pivotal 2012 workshop of Border Flows authors in Kingston, Ontario. Peer reviews and development of the volume extended from our Queen's University conference room to boating trips on Lake Ontario and the St. Lawrence River.
We want to thank the editors and staff with whom we worked at the University of Calgary Press: Brian Scrivener, Peter Enman, Helen Hajnoczky, and especially Canadian History and Environment series editor Alan MacEachern, on whose expert guidance we depended. Two external reviewers made the volume much better through their insights and comments.
We are indebted to our home institution, Western Michigan University, and especially to the Department of History, the Institute of the Environment and Sustainability, and the College of Arts and Sciences. The history department's Burnham Macmillan Fund and the Canadian government's Canadian Studies Faculty Research grant provided Lynne with research and travel support that led to the development of the volume.
In addition, the early stages of this manuscript progressed while Daniel held various positions predating WMU, and he would like to acknowledge the Fulbright Foundation, the Social Sciences and Humanities Research Council of Canada, the Department of History and School of Canadian Studies at Carleton University, and the Canadian Studies Program at Michigan State University.
Jason Glatz of Western Michigan University's Map Library lent his superb mapmaking skills to the volume. Students in Lynne's course on Great Lakes history (HIST 4010) became our test audience and gave us terrific suggestions just in time for publication.
We are grateful for the generosity of many colleagues: our fellow Border Flows authors and collaborators, for their engagement, patience, and amazing work; Ruth Sandwell and Sarah Hill, who participated in the Kingston workshop and commented on the earliest drafts of our chapters; Colin A.M. Duncan and Andrew Marcille, who, in addition to participating in the Kingston workshop, provided an idyllic post-workshop Lake Ontario/St. Lawrence River sailboat excursion with many of the authors; Jay Taylor, for his perceptive recommendations for our opening chapter; and Graeme Wynn, for his years-long mentorship, encouragement, and openness.
Finally, our deepest gratitude and appreciation go to our families: Philip and Jake; Jen, Elizabeth, and Lucas.
—Lynne Heasley and Daniel Macfarlane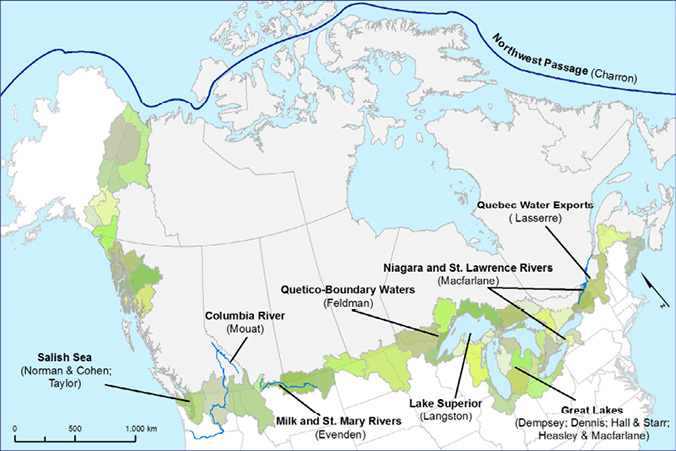 0.1 Canada-U.S. border watersheds. Map by Jason Glatz.