Meditations on Ice
Colin A.M. Duncan and Andrew Marcille
Historians and other ordinary people tend to think of lakes and rivers as liquid. But in central North America, where the Great Lakes–St. Lawrence River Valley is located, most bodies of water are substantially icebound for several months each year. In this well-watered zone, sailing iceboats were long used (in winter) as the best way to transport people and goods to and from islands and across wide, slow parts of rivers.
Iceboats are fast, often frighteningly so, and quite unencumbered with any braking mechanism. Rather than lolling about, attended by liveried servants, iceyachters experience many forms of discomfort when getting ready for their sport, untying frozen knots and assembling fiddly bits of deeply chilled equipment without gloves. When sailing, they commonly feel wind-chill effects around −50 degrees Celsius, often with wet feet. Any ease comes only after the boats are put away for the night.
It is precisely because iceboats are very fast that they were, however counterintuitively, the safest and most comfortable way to move people across large frozen expanses. The huge area over which an iceboat spreads its weight makes it possible to sail safely on ice too thin for skating or walking—a point freshly proved each year by keen racers. To this day, iceboats retain with ease the speed records for craft not reliant on motors. Though iceboat skates are very heavy, the friction between them and a slightly bumpy hard ice surface is risibly small. But perhaps the most astonishing thing about iceboats is not their top speeds, but their rates of acceleration. That said, global defrosting may explain why the top speed record dates from the first half of the last century. It is difficult now, perhaps impossible, to find good ice of sufficient extent to allow the buildup to speeds around two hundred miles per hour. What eventually restricts the speed of an iceboat is generally its own aerodynamic drag. But we have been skating away from the serious purpose of transportation. It suffices to say that pretty well any iceboat promised vastly shorter travel time than any alternative until the mid-twentieth century. Anybody seated riverside on an express train going along the Hudson River when an iceboat challenged the steam engine's driver to an impromptu race could see the speed of solid-water sailing.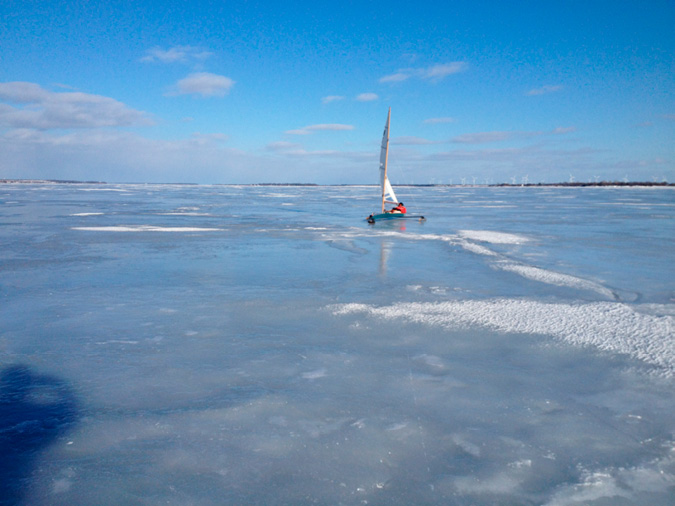 9.1 Iceboating at the very starting point of the St. Lawrence River, 2014. Courtesy of John Curtis.
The big, heavy iceboats of yore also built up formidable momentum if sailed much distance. Though there is little chance that the captains and crew found their work to be drudgery, they did face one tough task. Not quite as bad as it sounds (as one of the authors, who has experienced this, can attest), it entailed slipping overboard in heavy clothing and then dragging at the end of a rope to help bring the boat to a standstill at voyage's end. Iceboats are creatures of motion: if the wind is strong and the ice surface good, stopping one is far harder than setting it moving. Indeed, and rather amusingly, on a quiet day an iceboat with sail up can be induced to come on command, but only in response to impatience; the sailor stamping his or her feet on the ice can be enough to break the surface tension that was actually keeping the boat fixed. Once the craft is stopped, a kind of pointed metal device can—and should—be activated to serve as a sort of "parking brake." The qualifier and scare quotes are serious. If the wind is gusty, changing strength and direction violently, it can cause a pivoted device to become disengaged. Iceboats left untended with sail up and no brake set are notoriously apt to wander off. They have been known to sail aimlessly for miles, going both upwind and down as the forces of lift and drag jostle each other with nobody in charge. It is an inconvenience if this truancy occurs near open water, but luckily, despite the mass of the skates, the buoyant wood of an uncrewed iceboat prevents its sinking even if it does run out of ice. Though the speeds attained by an empty iceboat are not very high, chasing one in heavy clothing is a mug's game. Having a large number of helpful people spread out on the ice makes it easier to catch a runaway iceboat, but generally, one has to wait until it just happens to stop.
Of necessity, some time was spent every year determining when the ice was "strong" enough to support the craft. While the dangers of ice breakage seem obvious when the ice first grows at the start of any season, they are subtler at its end, as eventually even very thick ice loses its integrity. Indeed, the safest surface is new, clear ice whose thickness can be instantly discerned by looking at the edge of a crack. Changing its elasticity markedly with temperature, thinnish ice is safer on warmer days, other things being equal. Strong currents disturbingly can and do erode ice from below—a dastardly deed when the ice is opaque, which sadly it usually becomes. Near the shore, too, ice can be unsafe. Dark objects absorb immense amounts of heat from sunlight: piers and large rocks can create patches of open water even on cold days. Iceboat skates, thin as they are, absorb so much heat that if left on the ice for even a few minutes of blazing sun, they will drop down into the ice surface. With refreezing at dusk, the boat may become trapped. Prudent iceboaters prop their idle boats up by arranging lumps of wood beneath the skates, which also reduces the chance of an unmanned journey. Even with no sail up, an iceboat on a good surface can move very fast if the wind is strong.
Some physicists and engineers tell us they like to dream of a frictionless world. Iceboaters seem to live the reality—but in fact the noise made by metal moving over ice is considerable. Iceboats roar much like trains when going fast, giving everyone not on board a decent chance of keeping clear even with their ears muffled against the cold. Not surprisingly, many people have been frightened by iceboats. But the primary enemy of the iceboat itself is deep snow. Even the friction of thin, wet snow can "ground" the craft. The speed of iceboats means that whiteouts from fog or falling snow tell everyone to go home. As ice grows laterally as well as vertically, dangerous pressure deformations develop in restricted places such as harbours and rivers, much complicating navigation. These big cracks often relocate overnight. Iceboaters along the edges of the Great Lakes face one occasional source of huge frustration, most commonly at the start of the season. Massive wave systems generated by gales damage nearshore ice sheets that are not yet very thick, rendering the surface (in the worst cases) a jumbled mass protruding at as many angles as there are fragments. Only a huge thaw plus refreezing can clear that obstacle, with help from heavy snowfall to "fair" the surface. Usually, eventually, a large, moist, warm air mass from the Gulf of Mexico comes to the rescue of the Great Lakes–St. Lawrence iceboaters.
Although they, like farmers, watch the weather keenly and know its quirks inside out, iceboaters everywhere have no better luck than anybody else at ordering weather à la carte. Most major planned competitions have to be relocated overnight by hundreds of miles. Even the Iron Curtain never prevented ice yacht racers from pursuing clear ice across Europe. The large prewar iceboats that could carry many people and boxes and bags and dogs had skates so large they could cope with a wider range of surface imperfections than can a contemporary vessel, built light to be nimble enough for the many sudden direction changes involved in course racing in a fleet. Let us hope that global warming trends do not proceed so far as to render the trivial joy of iceboating a thing of the past.