On Frames, Perspectives, and Vanishing Points
Lynne Heasley
When past, present, and future intersect so visually—so unexpectedly and mysteriously—as they did in this astonishing scene on the Escanaba River, you can't help but reflect on the histories that might explain such a place. Here are juxtaposed two companion stories from the same spot on the riverbank. The first, a romantic ruin, succumbing to nature's time—a sublime refuge where trees are powerful over concrete and the divine appears luminous through the clouds of a passing storm. The second, three bridges in human time: a rare lattice truss bridge still carrying iron to Great Lakes steel mills, an abandoned concrete highway, and finally, barely visible in iron shadows, pilings from a long-ago wooden frontier road. Story upon story reconciled for a moment in the layers of a place.
No one viewing the images would imagine the humble scenes outside the frame. To my left, a family fishes off the riverbank. Overhead, my teenage son, Jake, scrambles where train trestle meets land. With each lunge, he looses a small avalanche of stones and taconite iron pellets. My husband, Phillip, stands next to me pointing, and pointing again, to make sure I see the details. The old pilings under the bridge are phenomenal.
And there's Lowell. Lowell circles us. Lowell talks. Lowell brings us a big leaf. Do we know what a buckeye tree is? Yes, I grew up in Ohio, the Buckeye State. Lowell says how unusual it is to have a buckeye tree this far north. Lowell marvels at how much time I spend "to take one picture." Lowell asks Phillip if it's hard to wait so long for one picture. Lowell queries me about my lens, my tripod, the places we've been. Lowell talks.
I get klutzy and frazzled when I can't concentrate. My tripod height is wrong; my graduated neutral density filter isn't level with the horizon; my remote shutter release won't release. Why won't it release? How in the world does our friend Conrad, a landscape painter, paint while people talk to him? How does he paint while I talk to him? I am clearly monophasic—one thing at a time, thank you. In my mind I call Lowell "Lull." The wind blows the clouds through the scene. They're starting to break. We'll lose this light in minutes. Lowell. Is. Irritating.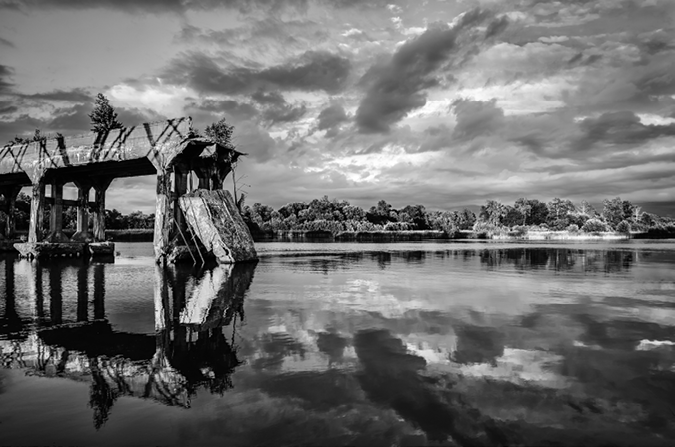 9.6 "American Ruins 1," Escanaba, Michigan, 2011. Concrete remnants of the long-abandoned Bay Shore Road bridge (old U.S. Highway 41 over the Escanaba River). Photo by Lynne Heasley.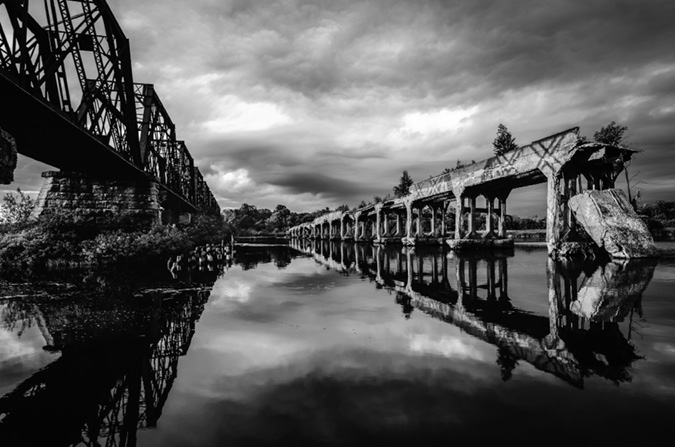 9.7 "American Ruins 2," Escanaba, Michigan, 2011. On the left runs the Canadian National Railway bridge over the Escanaba River, one of only two historical lattice truss bridges in Michigan. The company removed and replaced the bridge in 2015. On the right, ruins of the Bay Shore Road bridge jut into the river. Delta County and the U.S. Army Corps of Engineers demolished this bridge in 2015. Photo by Lynne Heasley.
But here's the catch: It was Lowell who pointed the way. Lowell, the retiree. Lowell, on his bicycle. Lowell, who saw us driving aimlessly through his remote Escanaba neighbourhood. He pulled beside us and asked if we were lost. No, we were just scouting the Escanaba River. We were looking for industrial history, for maritime history, for hidden waterscapes. (Our son's face at "hidden waterscapes": mute humour perfected.)
"Oh." Lowell paused. Then: "Have you found the fishing spot yet?"
Research, writing, art: capturing data or sentences or scenes sometimes means solitary episodes, blocking out other people. Likewise, no person appears within the frame of these photographs; the visual and intellectual perspectives lead elsewhere. But outside the frame are expanding ripples of "we": a visiting family (us) and their intelligent local guide (Lowell), other families and their fish, and so on, through the relationships that make up a place on the river and a river running into a great lake. Here at the fishing spot is Great Lakes history boiled to an essence. Its stories are our stories, too.