Prologue
Leduc, Alberta: February 13, 1947
The visiting dignitaries were scheduled to arrive around ten in the morning at the well site, named Leduc Number One after the nearby town: the mayor of Leduc, of course, and the mayor of Edmonton (among others); reporters and photographers; and most critically, Nathan Tanner, Alberta's Minister of Mines. There was some snow on the ground and the temperature was cold, but it was clear—a good sign.
Then, around 4 a.m., Murphy's Law kicked in: Vern Hunter, the chief driller on the well, discovered that a shaft on the cable's swabbing drum that removed excess mud had snapped inside the casing. It would have to be hauled out and replaced, which could take up to half the day. Hunter, who was sensitive about his nickname, "Dry Hole," had been doubtful about inviting official observers in the first place, even though the drill stem tests had indicated that Leduc Number One had a good reservoir of oil at 5,000 feet down. But the public relations department in Toronto wanted to put on a show, and it was hard to keep things secret at this point.
Hunter's boss, Walker Taylor, the head of western production for Imperial Oil, arrived at the site around 8 a.m. and assured Hunter he would try to keep the visitors out of his way. Travel arrangements from Edmonton for the officials were delayed for an hour but by early afternoon when they arrived a crowd had already gathered, including local farmers who had more than a passing interest in the event. Although the province of Alberta owned the subsoil mineral rights, landowners could make some money leasing rights of way to drillers.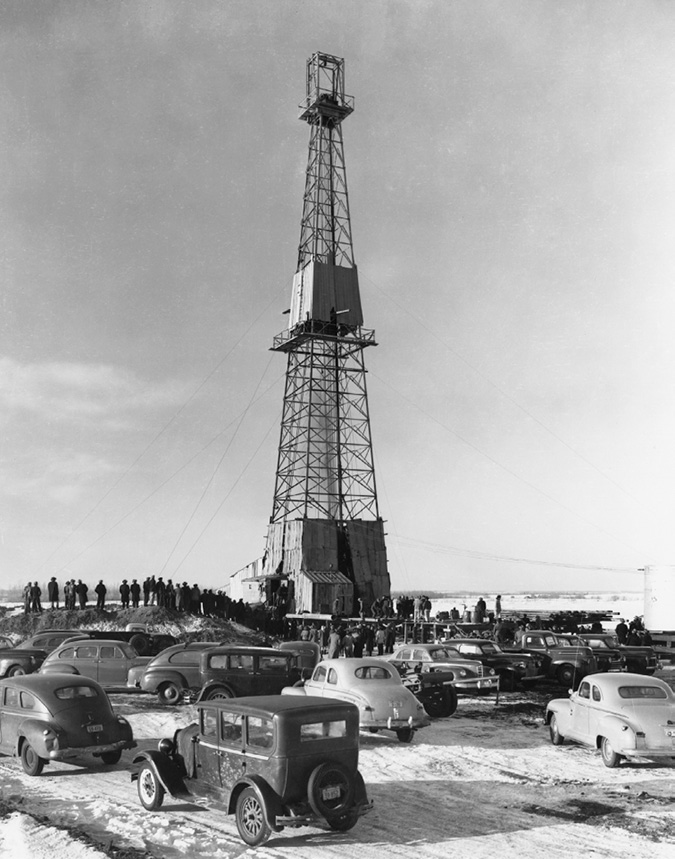 By 4 p.m. the repairs were done and the cable began running again. Then a column of liquid and mud (used to lubricate the drilling) shot up fifty feet above the pit alongside the drill tower. A Calgary driller, George Coakley, shouted "Here she comes—it's oil!" A fire was lit in the pit that caused a dramatic flaring: a Hollywood moment for the photographers that was to appear in the local newspapers the following day. The flaring formed a giant smoke ring, which oil drillers regarded as a sure sign of success.
A couple of hours passed as the excess gas and mud was being cleared out and many onlookers headed home in the cold. Shortly after 6 p.m. the official ceremonies finally took place. Tanner, joined by Walker Taylor and Vernon Taylor—a geologist who would soon head up western operations for Imperial—turned a valve that released the oil into a storage tank, marking the beginning of Leduc Number One's production history.
No one admitted to having celebrated excessively in Edmonton that evening. The news stories were all positive, a public relations success for Imperial. But company officials were still cautious: one well did not necessarily prove a large field, although seismic information seemed to confirm it. A few days later a second well site, Leduc Number Two, proved temporarily disappointing. Over the next few months, however, four more wells had come in, and by September Imperial's president, Henry Hewetson, announced: "The Leduc field is now recognized as a major one. Our geologists estimate there are 50 million barrels of oil and there may be even more since we do not know the limit of the field yet."
Leduc was just the beginning, of course. In 1948 Imperial opened the Redwater field and a year later there was Golden Spike. By this time other oil majors had arrived in (or in some cases returned to) Alberta: Shell, Texaco, Petrofina, and Mobil, which discovered a field even larger than Leduc at Pembina in 1953. Pipelines sprouted east, west, and south; Calgary and Edmonton boomed, both laying claim to the title of "oil capital." Alberta was no longer a "have not" province. Canada became a net oil and gas exporter. Leduc also left its mark on the company that had found it. Imperial Oil—big, cautious, bureaucratic, risk-averse, the quintessential "Canadian" business enterprise—was transformed as well, in ways that few outside its stolid gray stone walls on St. Clair Avenue in Toronto may have anticipated.1
The Road to Leduc
In 1947 Imperial Oil was the largest petroleum company in Canada and one of the ten largest non-financial enterprises in the country. In every dimension it was more than twice the size of its nearest competitors. Imperial refineries were located in every major city in Canada from Halifax to Vancouver. Esso service stations dotted the landscape. Imperial commanded a fleet of tankers, many of which had served in transatlantic convoys in both the First and Second World Wars.
What Imperial did not have, however, was very much oil of its own in Canada. The Petrolia fields in Ontario, which had provided the base for Imperial's founding in 1880, had been declining steadily since the turn of the century. Gas and oil had been exploited in the Turner Valley in Alberta by an Imperial subsidiary, Royalite, since the 1920s but those fields were reaching their limits as well. The largest source of supply came from Ohio through the "Cygnet line," serving the markets of central Canada. A second pipeline, built in 1941, carried oil from Portland, Maine to Montreal. Imperial owned the storage facilities at Cygnet but the oil came from other companies, mostly controlled by Standard Oil of New Jersey (now Exxon/Mobil), the largest successor company to the old Standard Oil Trust of John D. Rockefeller after it was broken up by a US court order in 1911.
Cygnet symbolized another critical feature of Imperial Oil: more than two-thirds of its shares were owned by Jersey Standard. Esso was the brand name for Jersey Standard's products; major decisions (including the development program that led to Leduc) were ultimately submitted for approval in New York; and in many other aspects Imperial was part of a global network of affiliates that made Jersey Standard the largest corporation in the world. Ironically, Imperial had been established to be Canada's defender against the sprawling tentacles of the Standard Oil "octopus" in the 1880s. Imperial's owners were stalwart Conservative supporters of the National Policy tariffs on imported petroleum products and the name of the company was intended to demonstrate its fealty to the empire in which Canada was a dominion. But a number of problems beleaguered the company: Rockefeller's aggressive strategy surrounded Imperial with regional competitors (controlled by Standard Oil); output from the Petrolia fields began to decline; and Imperial failed to acquire technology that would reduce the sulphur content of its product, which unhappy consumers called "skunk oil." The Liberals in Canada systematically dismantled the protectionist measures that had shielded Imperial from the Americans. By the end of 1898 Imperial's owners capitulated and the Standard Trust acquired control of a majority of the shares.
For more than a decade Imperial barely functioned, and was little more than a brand name. The Petrolia refinery was closed, the company records were removed to Buffalo, and the Standard manager there ran operations in Canada, rarely consulting the minority shareholders—who nevertheless did very well financially and so had few complaints. This situation changed, however, in the wake of the breakup of the Standard Oil Trust in 1911. Imperial was assigned to Standard Oil of New Jersey, which dispatched one of its rising stars, Walter Teagle, to reorganize the derelict Canadian operation.
Teagle was worried about threats from Jersey Standard's biggest rival, Royal Dutch Shell, and also envisioned Imperial as a vehicle for offshore activities if the US government continued to hound the American parent. New refineries were built, the Imperial sales force was overhauled, troubled labour-management relations were attended to, and Imperial's board was given a larger role in running the company, although Teagle colonized management with his own protégés. As Imperial's official historian John Ewing put it, Teagle "took Imperial from the vassalage in which had been since 1898 and gave it at least the status of a free man."2
Teagle, however, was a Jersey Standard "company man:" Imperial was expected to do its part as a cog in the larger wheel. During the First World War, Teagle arranged for Imperial to set up a subsidiary, International Petroleum Company (IPC), to develop oil production in Peru and Colombia. Ostensibly, IPC's output would supply Canada's oil needs, but in practice a substantial amount of the oil found its way to Jersey Standard's giant refinery in Bayonne, New Jersey. The IPC arrangement may have been intended in part to deflect South American nationalist opposition to the Standard Oil octopus. Once Teagle moved on to become chief executive of Jersey Standard in the 1920s, Imperial's strategic role diminished. In the 1930s Imperial and IPC became essentially "cash cows" for Jersey Standard: virtually all Imperial's earnings from its South American operations were transferred to the parent company through dividend payments.
Nevertheless, Teagle supported Imperial's aspirations to find a secure oil supply within Canada. Initially his commitment was spurred by the machinations of Royal Dutch Shell: in 1918 that company had approached the Dominion government with a proposal: in return for full access to mineral rights on Crown lands, it would develop western Canadian oil resources and build pipelines to Ontario and Quebec. Little of substance came of this improbable scenario, but Teagle countered it anyway, setting up a subsidiary, the Northwest Company, to explore for oil in northern Alberta and procuring the help of T.O. Bosworth, one of Britain's leading geologists, to head the effort.
Bosworth mounted an ambitious operation, with expeditions ranging from the Calgary region (where natural gas and some crude oil had been discovered in the Turner Valley in 1914) to the Mackenzie River delta, but the results were frustrating. The expeditions were beset with perils: Bosworth feuded with other geologists; there was at least one suicide; an experiment at aerial surveying ended in near disaster. Everitt Sadler, one of Teagle's associates at Exxon, ridiculed the undertaking as "politically motivated"—i.e., to keep Canadian officials happy. There may have been some truth to this view—in 1921 Imperial Oil persuaded the Canadian government to write off the company's expenses on exploration in the west against its mineral leasing fees. But Teagle never imposed a veto on Imperial's exploratory ventures despite its dismal record: Imperial Oil folklore has it that the company drilled 133 "dry holes" before 1947. This was an exaggeration—drillers found some natural gas but only one potentially large oil well.
The most stalwart exponent of western exploration was Ted Link, an American-born geologist who had joined Bosworth's expedition in 1919 as a graduate student at the University of Chicago. During the following summer Link and his group discovered oil near Fort Norman in the Northwest Territories. Although the output was small, Link believed the formations in the area held great promise. "This is the biggest oil field in the world," he told a reporter from Edmonton, "stretching all the way to the Arctic coast."3 Imperial followed up on this discovery and developed five wells around Fort Norman in the 1920s, but ultimately decided that the site was too remote and the problems of transportation too challenging to merit further expansion.
During the Second World War, however, the US Army approached Imperial with a proposal to reopen the wells near Fort Norman. Fearing a Japanese invasion of the Alaskan islands in 1941–42, the Americans wanted to build a pipeline from Norman Wells to Whitehorse in the Yukon to connect up with an equally ambitious highway between the Yukon and Alaska. When the Japanese threat receded the project foundered amidst US congressional hearings featuring charges of waste, bureaucratic mismanagement, and the malign influence of oil companies. Although the pipeline and the "Alcan highway" were completed, the refinery built at Whitehorse fell into disuse after the war.
Link's hopes for a massive expansion of Imperial's exploration in western Canada were frustrated in the 1920s; nevertheless, he continued to play an important role in the company, and became chief geologist in 1946. By this time pressures were once again mounting for another effort to find oil in western Canada. Postwar demand for auto fuel was sure to increase; the cost of importing oil from the United States was expected to rise with the weakened Canadian dollar; and International Petroleum's wells in Colombia were likely to be nationalized by 1950, cutting off that already limited source. Link became part of a team headed by Dr. O.B. Hopkins of Imperial's board of directors to decide on a strategy for exploration.
Imperial's president Hewetson laid out the alternatives: if the exploration option failed, the company would turn to an alternative-fuel technology, the Fischer-Tropsch process developed in Germany during the 1920s that could convert natural gas to oil, which would of course be more costly and still leave Imperial dependent on imported oil. Hopkins's group produced a report that endorsed one more exploratory venture in Alberta, using improved seismic technology and probing deeper than previous drilling, which had focused on the "Cretaceous" level (3000–4000 feet) from the age of dinosaurs to what was (hopefully) a "Devonian reef" at about 5000 feet containing the remains of much older organic matter. The Leduc area was actually on the edge of the prospective "Devonian reef" but early tests revealed "anomalies," and drilling ultimately led to success.4
After Leduc
Leduc's success posed as many challenges to Imperial as failure might have, all of them expensive. There was no refinery near Leduc. As the oil sands companies would discover a generation later, the oil was remote from its markets and transport costs would be formidable. With other companies flocking to Alberta, Imperial would have to expand its exploration investment to keep ahead. Most of Imperial's net earnings over the previous decades had been passed on to its shareholders (principally Exxon); but now Exxon was not prepared to provide capital on the scale required—it had even larger demands on its resources to develop big new fields in South America and the Middle East.
Hewetson moved quickly to address the refining and transport issues. Imperial bought (back) the Whitehorse refinery built in the Second World War by the US Army, dismantled it and shipped it to Edmonton—by July 1948 it was in operation. The Canadian government quickly approved an interprovincial pipeline that would ultimately carry Albertan oil to Wisconsin and then ship it to Imperial's largest refinery in Sarnia, Ontario. The Interprovincial Pipeline Company (now Enbridge) was moving oil by the autumn of 1950. For Imperial, however, the costs of moving so rapidly were high, and financing the projects became the central issue facing the board of directors.
The first step, in the autumn of 1947, was to issue $24 million (CAD) in debenture bonds—a first for Imperial, which had relied on Jersey Standard for financing since 1899. The Royal Bank of Canada quickly took up the subscription, but it proved at best a stopgap. Before the end of the year Hewetson was seeking a longer-term solution, which led to a review of Imperial's other investments and subsidiaries.
The largest of these was International Petroleum with its oilfields in Peru and Colombia. In this case Imperial's dependence on Jersey Standard proved to be a blessing, for the parent company took over the South American properties for $80 million (CAD). In retrospect this was a puzzling decision for Jersey Standard: Colombia was already threatening to nationalize IPC`s fields, and would do so in 1951; Peru followed suit a decade later. For Imperial, however, this was a win-win situation, as it could disengage from increasingly troubled overseas operations and focus on developing its Canadian fields.
A second subsidiary and also a somewhat difficult one was Royalite in Alberta. Imperial had taken over that company in 1921 to give it a surreptitious foothold in the Turner Valley oil and gas fields. Although Royalite struck oil in Turner Valley in 1924, for various reasons—the cost of transportation to central Canada, the objections of Alberta politicians to "exporting" their oil—it remained principally a supplier of the local western regional market. In recent years Royalite had become almost a competitor with Imperial in the search for oil beyond Turner Valley. In 1948 Imperial tried to buy out the minority shareholders in Royalite in order to get better control over its operations. When this move failed, Imperial simply sold off its interests for $14 million (CAD).5
Today Imperial Oil remains one of the largest oil companies in Canada. Exxon-Mobil still holds more than a two-thirds ownership of the company. In critical ways, however, it changed substantially in the aftermath of Leduc. Imperial became a truly integrated oil company, with its own domestic source of supply. It became more "Canadian," jettisoning the entangling commitments overseas that had been a key feature of its history before 1947. While it remained part of the Exxon network, these features returned Imperial to its original national role. At the same time, Imperial became more "entrepreneurial"—before 1947 many of the executives were managers involved in running a company that functioned like a utility: refining, transporting, and selling oil products that came from somewhere else. After Leduc, Imperial focused on exploration and development of resources, and leadership passed to those whose perspectives were shaped by experiences in the new oil fields of Alberta, and later the Arctic and the oil sands. For that generation, the exploitation of Canada's northern environment became essential to the future of Imperial Oil.