Bordering on Significance?
Daniel Macfarlane
I was almost born in eastern Ontario, an area abundant in water. Instead I ended up growing up in a place that some might consider the inverse: Saskatchewan. It is not as if the Canadian prairies are completely bereft of water, particularly in the northern half, but whenever we went to visit family in Ontario, as we frequently did, I was intrigued by the waters of the St. Lawrence, the locks of the Rideau and Trent Canals, the Great Lakes, and Niagara Falls.
I started writing this piece in Kingston, on Lake Ontario, continued it along the St. Lawrence River, added to it in Canada's capital along its eponymous waterway, and revised it in parts of Michigan astride various Great Lakes. All this moving about, with my family in tow, gives one some perspective on the ways that borders matter, and the ways that they don't. Water flowing naturally doesn't respect human-made boundaries, but in the case of the Niagara and St. Lawrence projects (see chapter 4 in this volume), borders clearly matter. The border has a deep impact on how nations perceive their water and nature. As problematic as it is to generalize about societal views of the environment, crossing borders—province to province, state to state, country to country—has left me with the impression that both similarities and differences exist in these views when it comes to northern North America.
The picture of old Highway 2 running into the St. Lawrence shows another kind of border: a line between past and present, between memory and history. It appears to show a border between built and natural environment. But that is a false distinction—not only here, but probably everywhere. Roads lead somewhere, just like "progress." But where does this road lead? Where does "progress" on the scale of the St. Lawrence Seaway and Power Project lead?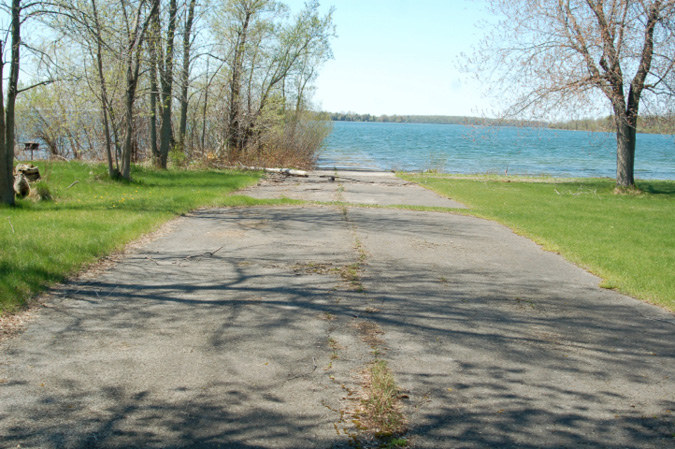 9.2 Old Highway 2. Photo by Daniel Macfarlane.
Other questions about the artificial/natural divide—or lack thereof—can be asked of waters that form the border between Canada and the United States. They are both natural systems and political/cultural/social constructions. Rivers and lakes are bioregions unto themselves, but water also divides land; thus, from the perspectives of those carving out political boundaries, bodies of water naturally make good boundaries. While the waters of the Great Lakes–St. Lawrence basin serve as convenient and "natural" (or intuitive) borders in a certain sense, the divided political jurisdictions that result make policy actions concerning these waters more fragmented and difficult.
Such dichotomies, or contradictions, certainly apply to Niagara Falls. Consider the pictures of Terrapin Point (Figure 9.3, 9.4). This used to be part of the waterfall until it was "reclaimed," for two reasons: to mask the scenic impact of water diversions for hydroelectric production by shrinking the Horseshoe Falls, and to give tourists a better view.
In the course of discovering the historical manipulation of Niagara Falls, I went through a sort of progression of emotions: first dismay, then despair, then disillusionment. But somehow, over time, I returned to my childhood fascination with Niagara. I saw through the manipulations and reordering. I once again saw water going over rock, H2O over granite, the largest freshwater system in the world plunging over a magnificent cliff.

9.3 Terrapin Point. Photo by Daniel Macfarlane.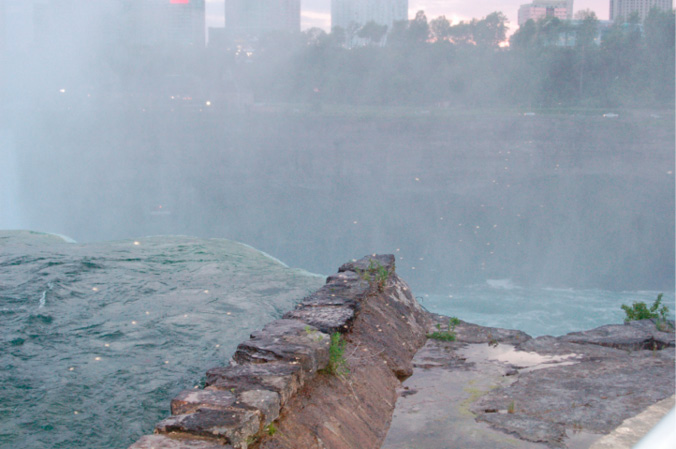 9.4 Artificial edge of Horseshoe Falls. Photo by Daniel Macfarlane.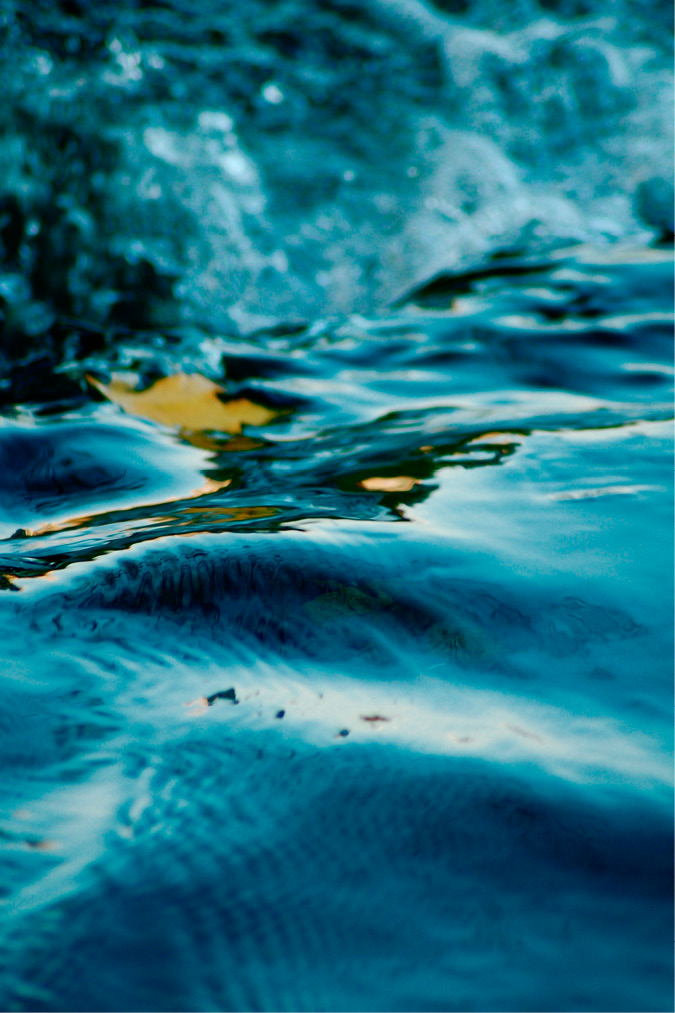 9.5 Maple leaf in water. Photo by Daniel Macfarlane.
I've watched theses waterscapes from many perspectives, and I've photographed them from many angles. I've watched the St. Lawrence while standing on the remains of long submerged towns, up to my waist in water. I've watched from a dock, from a power dam, from a plane, from a freighter. I've watched Niagara from Terrapin Point and Table Rock; I've watched from on high in a hotel room and from below peering out of a cave, from the Maid of the Mist and from a jet boat. The hotel is obviously part of the built environment—but, really, so is Terrapin Point.
At Terrapin Point, I'm literally on the border. Does crossing the border change the view? What baggage do I bring that influences my perspective? We go back to where I started this: where I am from. Does being a Canadian—or a western Canadian, a central Canadian, a Michigander, or a central North American—have a perceptible impact on how I conceive of these border waters, or how I view the other side? Does the fact that I now live in the United States alter this view? Does my transnational, environmental historian outlook alter my perspective more than my nationality? Does framing through a camera lens change my gaze in profound ways?
At the very least, it is clear that the border doesn't just shape countries physically; it shapes ideas and perspectives metaphorically. They shape me. Does the border change the river or the waterfall? I think it does. But they also change the nature of the border—pun intended.